Harsimran Kaur ON Jan 18, 2023, IN BOOK REVIEW, The Last War: How AI Will Shape India's Final Showdown With China By Pravin Sawhney–NON-FICTION
Rating: 4/5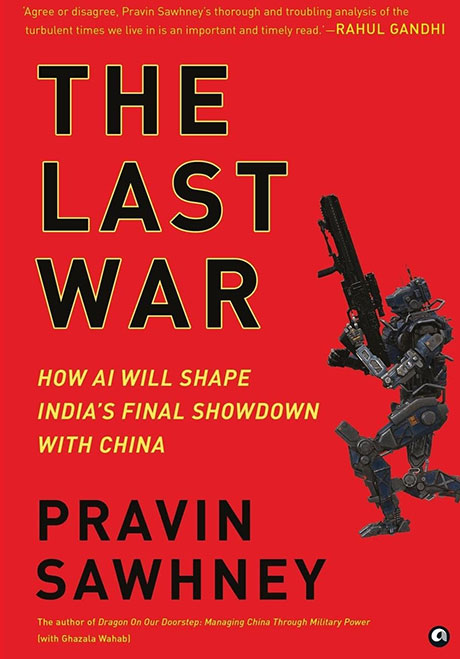 Sanguinity loses its charm when imperils fall, cascading a slew of unchaperoned logistics –unclaimed and unpalatable. The relationship of India and China is such; convincing at the outer layer but deep inside an incoherent cataclysm of ideologies and governance.
The issues are numerous giving rise to incendiary political and military conflict. The 'Ladakh stand-off' surfaced as an agonizing aunt for India—China dismissing the promulgation by the Modi Government of including 'Aksai Chin' within the newly etched Union Territory of 'Ladakh'. The conspicuous 'Doklam controversy' in 2017, where China initiated construction of roads from Dokola towards Bhutan was not gulped in a good fancy by both India and Bhutan. Disengagement of troops from both sides, as glorified by Modi confounded the Chinese counterpart as the Chinese troops were never the first to exit and continued with their construction work—considering Indian demagoguery as a faux pas.
The coup-de-grace of such skirmishes could a full-scale war, pullulating dynamic war paraphernalia that India could be unequipped to handle.
It is not a revelation, as Pravin Sawhney puts in his book 'The Last War' but a denial that the Indian Government and the military forces are living with—a war that would put India at the ripper's edge, thanks to the ratiocination China has seeped in to bring 'Artificial Intelligence' in the forefront. It will be a war siphoning a breed of weapons curated by a condescension mind to incapacitate a country of its infrastructure, cyber security, human psyche and government control. The question now arises:
Will India be able to combat the visceral territorial occupations, a caucus belli for both the countries?
Is Modi Government capable of convincing the Xi Jinping polity of a rapprochement by declaring hegemony over the issues pertaining to Ladakh and Arunachal Pradesh?
Can India make its foreign policy more combustive to tackle the incongruity from both ends—'Pakistan' and 'China'? India's military distribution seems incoherent, pressing hard on a non-negotiable 'Kashmir issue' which enables China to play abrasively with India's tautology.
If it a 'NO' to all these realistic assumptions, India supposedly stands at a brink of war; unapologetically 'The last War'. Pravin Sawhney in his latest book, 'The Last War' beats the drum, of China being the 'Machiavellian Serpent' that unceremoniously rejects the Indian military rattle trap of armaments to which it has to offer the roguish 'Artificial Intelligence' warfare. It's not a hopeless gimmick by China but a 'reality' soon to give Indian army a deserving felicitation of its ambiguous bilateral terrine. As Sawhney tendentiously states that if war does happen, then it would not be a warfare that traps human in a murderous fusillade but will witness a large field of Indian army struck by galvanized robots, drones as tiny as bullets, hypersonic missiles and autonomous munitions.
India is surrounded by soil-spring triumvirate—China, Russia and Pakistan. Sawhney, through a competitive analysis is adamant for India to have a formidable relation with the three musketeers rather than just focusing ties with the United States. It is a proven fact now that the US through its NATO alliances is eager to seep into the Asian Territory—maintaining bilateral relations with many countries in the Indo-Pacific. China, with the largest air force and navy, and above all the largest coast guard in the world, would be intolerant of US maneuvering into the Indo-Pacific alliances.
India needs to be vigilant. Being not supportive to the BRI (Belt and Road Initiative) promulgated by China, it could be caught in the incandescence of the Dragon's fire. In the carapsse of its extrapolation of Chinese strategies and motives, India should be prepared for any exigencies. If PLA (People's Liberation Army) of China strikes, it would not be just through Land, Air or Sea, but also through cyber space, hypersonic domain, outer space and electromagnetic spectrum.
TAKE AWAY
Every now and then, we hear of Indian and Chinese troops bed-rocked at sensitive patrolling points creating a fear of reprisals and recriminations. Any disengagement comes as a relief and Indian military considers it as weather turned pleasant. Who can forget China's perfidy juxtaposed by the Indo-China war of 1962, where China triumphed? Nehru with his incessant charm to impress China fought Heaven and Earth to get it permanently placed as a member in the UN, but all hell broke loose with China waging war; a pejorative symphony that played in Nehru's mind till he was alive.
'The Last War' shows India as a fish out of the water. 'Surgical Strikes', 'Counter-Insurgency/Counter-Terrorism operations in Jammu & Kashmir, and 'Balakot Air Strikes' are an impression of what India is best at but with China, it's a mind game—channelization of understanding the enemy and its weaknesses.
Futuristic and an eye-opener…